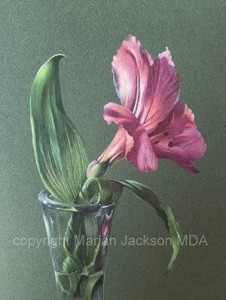 COLORED PENCIL SEMINAR WITH MARIAN JACKSON, MDA
November 6, 7, 8, 2015
Williamsburg, Virginia
Bev Marx and Brenda Stewart are sponsoring a colored pencil seminar with Marian Jackson, MDA. Marian produces some of the most beautiful work in the colored pencil world and is a very detailed and easy to understand teacher. We will be doing two projects: Tomatoes and Basil and Alstromeria in Glass. If you are interested in joining us for this wonderful opportunity to study with Marian, you can download the full Colored Pencil Invite PDF here.